Firmy na celém světě se spoléhají na Red Hat hlásá Red Hat na svém webu .
No jestli je jejich distribuce stejně aktuální jako mapa Evropy, která je pod tímto sloganem, tak to tedy upřímnou soustrast :-).
Pokud by to náhodou aktualizovali, tak tady je původní obrázek: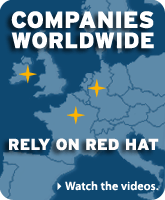 Nenašel jsem to sám, tak přidávám odkaz na původní zdroj .