The book Mastering phpMyAdmin 3.3.x for Effective MySQL Management is already available for some time, but I still think I should promote a little bit in my blog so here it is :-).
The book covers all you might want to know about using phpMyAdmin. It really does not make sense to copy text from book description, so feel free to find yourself what all it does cover.
As every time, this book is written by Marc Delisle, who is for several years project admin, so probably the person who knows most about hidden features. Usually technical review of the book is done by some other developers and this time it was me doing this job (among other reviewers). I hope we did good job and you will like this book.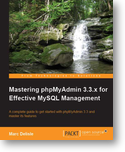 PS: As a nice bonus, the phpMyAdmin project receives money from every purchased book.