Protože už se začínám ztrácet v tom, jaký VCS zrovna mám použít na aktuálním projektu, rozhodl jsem se, že je na čase informace o VCS v aktuálním adresáři dostat do promptu shellu.
Chvíle Googlování ukázala na existující řešení , které ale bohužel neřeší všechny VCS, které používám. Nicméně přidání CVS a Darcsu bylo celkem jednoduché, takže už to mám ve svém .bashrc . Jak to nakonec vypadá se můžete podívat tady: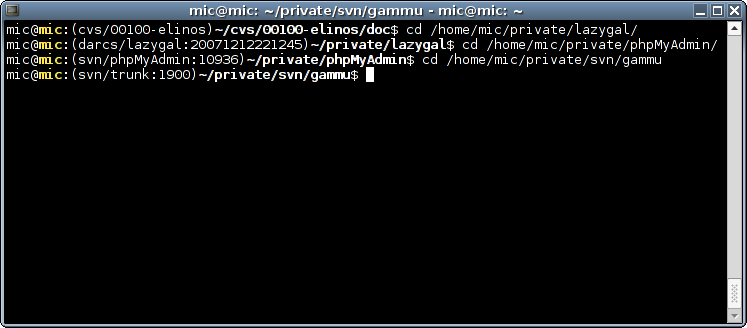 Teď ještě vyřešit nějaké jednotné rozhraní pro nejvíce používané příkazy, abych nemusel vůbec přemýšlet co používám :-).